After a tumultuous eight game stretch, including losing a four-game sweep, the Reds entered Friday night in dire need of a win and also a morale boost.
When the Reds needed it the most, Jesse Winker came through with a historic night. With his three home runs, and reaching base five total times, Winker propelled the Reds to a much needed victory. Jeff Hoffman battled through five innings and the offense showed the life fans have been crying out for.
An important divisional series started with a win, and the Reds will need Winker to continue playing at this MVP-level to pull themselves back into the race.
---
Offense
As he has nearly all season, Winker started the night well for the Reds, roping a 102.6 MPH single to beat the shifted infield. After a strikeout looking from Nick Castellanos, Tyler Stephenson walked, which brought Tyler Naquin to the plate. Naquin promptly blasted a 459 foot, 112.6 MPH three-run home run to deep right field, giving the Reds an early 3-0 lead.
Wondering what a 459 foot dinger looks like? Watch this: pic.twitter.com/Ei98KlV2mM

— Cincinnati Reds (@Reds) May 21, 2021
Naquin's blast was the longest homer of the season for the Reds. The bottom three in the Reds' order were set down in order in the second.
Opening the third, Houser was met by Winker, who smashed a 108.5 MPH, 431-foot solo shot to center field. He was just getting started.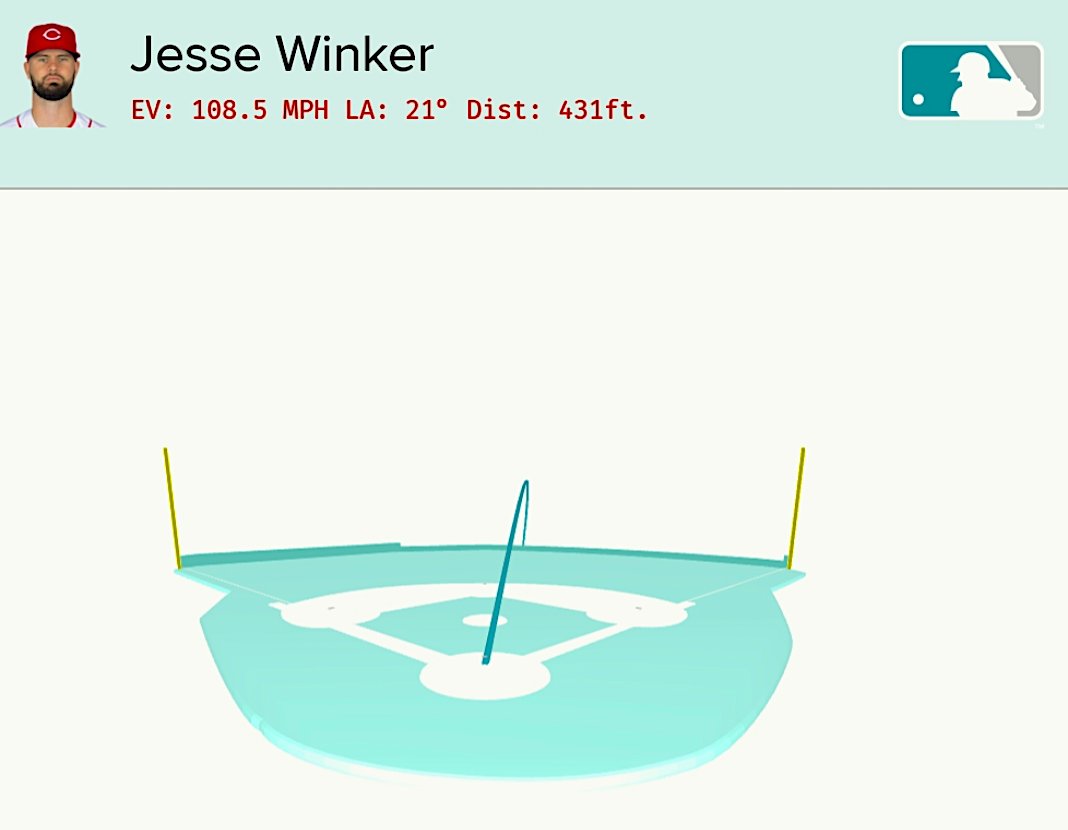 Houser was able to retire Castellanos, Stephenson, and Naquin without a ball leaving the infield, but the Reds ended the third with a 4-1 lead. Houser worked around two walks to Tucker Barnhart and Jonathan India in the fourth inning, before Jeff Hoffman was allowed to hit and lined out to end the inning.
Starting the bottom of the fifth, Houser faced Winker for the third time. Winker was once again victorious, as he blasted his second home run of the night. The 108.6 MPH, 396 foot shot was his 10th of the season, giving the Reds a 5-1 advantage. Castellanos followed with a seeing-eye, 93.2 MPH single through the shifted infield, and then Stephenson walked for the second time, and Houser was pulled by Craig Counsell.
Counsell opted to bring in left-hander Angel Perdomo, who walked Tyler Naquin to load the bases. With no outs and a 3-0 count, Eugenio Suarez swung away and popped out to first. Tucker Barnhart hit a long sac fly to right field, pushing the lead to 6-1, before Kyle Farmer flew out to end the inning.
The bottom of the sixth was much easier work for Perdomo, as he recorded the first two outs before walking Winker. He was able to strike out Castellanos to end the inning, keeping Winker from scoring from the fourth time. Josh Lindblom was brought in to face Stephenson, Naquin, and Suarez in the seventh inning, and he got some help from Lorenzo Cain on this 106.3 MPH drive from Stephenson.
LORENZO. CAIN.

This snag from the visiting CF even got a standing ovation from the home team ?? pic.twitter.com/MMa3osoxcy

— FOX Sports: MLB (@MLBONFOX) May 22, 2021
Despite the fantastic defensive play, Lindblom couldn't avoid trouble. With two outs, he walked both Suarez and Barnhart, before Farmer laced a 96.2 MPH single, scoring Suarez to extend the lead to 7-4. India then joined the fun, pulling a 100.3 MPH single to left field, plating Barnhart for the Reds' eighth run.
Lindblom returned for the eighth inning and was also rudely greeted by Winker, who reached base for the fifth time, while also mashing his third home run of the game. The 104.9 MPH shot gave Winker the first three home run game of his career, and he responded to the GABP faithful with a curtain call.
Winker. Ambush. Again. That's three home runs for the leadoff man. #Reds pic.twitter.com/rVmfsYs8pK

— Kareem Elgazzar (@ElgazzarBLVD) May 22, 2021
Pitching
Coming off three straight subpar starts, Jeff Hoffman needed to replicate his early season success to get the Reds back on track Friday night.
The first inning was quick for Hoffman, as he needed just 12 pitches to retire the side in order. Christian Yelich had a long flyout to left field (98.3 MPH, .360 xBA) that pushed Jesse Winker back to the warning track.
After a solid start to the second inning, striking out Omar Narvaez with a slider in the dirt, Hoffman ran himself into trouble. Dan Vogelbach reached on a 55.4 MPH tapper that eluded Hoffman, and then the floodgates opened. Hoffman proceeded to walk Travis Shaw, Jackie Bradley Jr., and then Luis Urias to give the Brewers their first run. He bounced back to then strikeout Adrian Houser on four pitches and retire Kolten Wong on a ground ball to end the inning, limiting the damage to just one run. Hoffman labored through 39 pitches in the inning.
Lorenzo Cain opened the third inning with an 81 MPH single down the right field line, then advanced on a passed ball during an eventual strikeout of Christian Yelich. With one out, Narvaez had a long fly out (94.7 MPH) to right field, chasing Castellanos to the wall. With two outs and a runner at third, Hoffman got Vogelbach to tomahawk a four-seam fastball on the ground to Suarez, who ended the inning.
Hoffman walked Travis Shaw opening the fourth, but got two strikeouts and a pop out to avoid any further damage. The fifth inning was similar, as he struck out two more Brewers, including Yelich on his 99th pitch to end the frame. Hoffman ended his night working five innings, allowing just two hits and one run, but working four.
Amir Garrett made an appearance in the sixth inning, needing just six pitches to record three outs. Vogelbach and Shaw both had 100 MPH fly outs against Garrett, so his stuff was not at its best.
David Bell turned to Lucas Sims to continue a solid night of Reds' pitching in the seventh inning, but Sims turned in a rough performance. Bradley Jr. had a seeing-eye, 77.3 MPH single to open the inning, and Urias moved him to third with a 101.9 MPH double down the left field line. After a Billy McKinney sac fly to cut the lead to 6-2, Wong was hit by a pitch. Lorenzo Cain drove a 102.7 MPH double over Winker's head that brought home Urias, and Tejay Antone was called upon to stop the threat.
Facing Christian Yelich, Antone was able to induce a groundout to Suarez, where the Reds conceded the run. Narvaez came to the plate as the tying run, but Antone disposed of him with a 100.2 MPH sinker to end the top half of the seventh with the Reds leading 6-4.
Antone hit for himself in the bottom of the seventh and remained in the game for the top of the eighth inning. He then set down the side in order, keeping the lead at four runs.
Newly called-up Brad Brach was called upon to work the ninth inning, and it was mostly clean. After a strikeout and a groundout, Tyrone Taylor pulled a 105.2 MPH double down the left field line. He ended the night striking out Lorenzo Cain, securing a 9-4 Reds win.
Stats
Most Valuable Players
Tyler Naquin: +21.9 WPA (Win Probability Added)
Jesse Winker: +16.6 WPA
Jeff Hoffman: +12.7 WPA
Hardest-Hit Balls
Tyler Naquin: 112.6 mph | Home run in 1st inning
Jesse Winker: 108.6 mph | Home run in 5th inning
Jesse Winker: 108.5 mph | Home run in 3rd inning
Unluckiest Out of the Day
Tyler Stephenson: .750 xBA | Line out in 7th inning
Highest Velocities By Pitcher
Tejay Antone: 100.2 mph
Tejay Antone: 99.7 mph
Tejay Antone: 99.1 mph
Highest Pitch Spins
Lucas Sims: 3,502 rpm | Curveball
Most Pitch Movement
Jeff Hoffman: 60 inches vertical movement | Curveball
Team Expected Batting Averages (xBA)
What's Next?
The Reds look to continue climbing the National League Central standings as they take on the Brewers in game two of the weekend series. Sonny Gray will face Brett Anderson at 4:10 tomorrow as the Reds try to win their first series against Milwaukee.
Featured image: https://twitter.com/Reds/status/1141437844608684033
---
For more in-depth thoughts on today's game and a preview of what's ahead, consider subscribing to The Morning Spin, our daily newsletter. We'll also analyze Reds news, give you a Stat of the Day, answer your burning questions, and more. You can get three issues for free; after that, it's just $5 per month. Join us!